CLICK ON DISK BELOW TO SEE COMPLETE 1990'S FLORIDA ANIMATION REEL

ED SEEMAN'S "CLASSIC ANIMATED TV COMMERCIALS"


In the 1960's, 70'S & 80'S, I and my partner Ray favata animated and produced some of the most Famous Award Winning National Brands TV Animated Commercials. Here is the Exclusive showing of some of the best known which includes the EMMY AWARD WINNING opening for THE GREAT SPACE COASTER, SUGAR BEAR, FLINTSTONES, THE ORIGINAL "MY LITTLE PONY" and many others.
CLICK BELOW TO SEE MY OLD SAMPLE REELS
Watch Ed demonstrate the lost art of CEL ANIMATION on the TV Show
Welcome to our Animation Web Site consisting of Three pages.
PAGE ONE:(This Page) ED'S BIO and CEL (2D) ANIMATION CHARACTERS
Page Three shows Samples of my Digital Rendering Process that adds Dimensional Shading to Traditional Flat Animated Characters
QUENCH AID FLAVORED DRINK MIX

After many years as one of New York's leading Cel Animators, ED SEEMAN relocated to South Florida
and established his own

CEL ANIMATION PRODUCTION COMPANY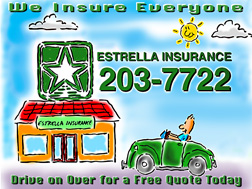 Ed's career spans five decades of Cartoon Cel Animation
beginning at PARAMOUNT PICTURES
where he learned animation
working on POPEYE AND CASPER THE GHOST

ESTRELLA AUTO INSURANCE
SOUTHWEST WATER MANAGEMENT DISTRICT

He then transitioned from theatrical cartoons to TV commercials,
animating such legendary characters as;
SUGAR BEAR, TRIX RABBIT, BULLWINKLE,
FLINTSTONES, MY LITTLE PONY
and a host of other nationally known cartoon personalities.
Currently Ed combines his award-winning Cel Animation talents
with the latest Computer Rendering Software
thereby creating a contemporary look that gives a fresh,
excitingly different imagery to his
traditional
HAND DRAWN CARTOON CEL ANIMATION.

ALLIED TIRES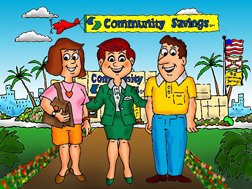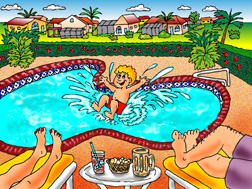 COMMUNITY SAVINGS BANK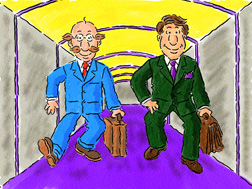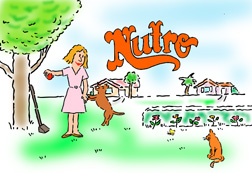 LATINPASS NUTRO DOG FOOD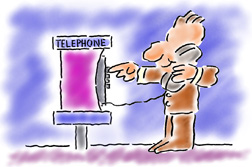 1-800-CALL AUTO SOUTHWEST FLORIDA MANAGEMENT
GIUSEPPE MOZZERELLA TOYOTA FORTUNE TELLER
TO RETURN TO COEXISTING DUALITIES OF ED SEEMAN