FRANK ZAPPA & THE ORIGINAL MOTHERS OF INVENTION
As filmed by ED SEEMAN
1967-1968
"I first met Frank when He was playing a steady gig at the Garrick Theater in Greenwich Village. I hired him to score a 30 second animated TV commercial I was animating and producing FOR LUDEN'S COUGH DROPS. He requested $2,000 plus a studio for a day with a wide variety of instruments plus a guy to do cough sounds.
The Spot was called "THE BIG SQUEEZE" It won a CLIO for "BEST USE OF SOUND" in 1967 and is mentioned in the recent release
FRANK ZAPPA The Lost Episodes #19
CLICK HERE TO SEE THE COMMERCIAL
CLICK ON THIS TITLE TO SEE THE AWARD WINNING THREE MINUTE OPENING TO MY 40 MINUTE FILM DVD

AAAAFTER WE FINISHED SHOOTING AND EDITING THIS 3 MINUTE FILM WE DECIDED TO COLLABORATE ON A LONG TERM PROJECT HE CALLED
UNCLE MEAT
CLICK LOGO BELOW TO SEE ONE OF MY SEGMENTS OF UNCLE MEAT

NCLE MEAT
For the next 13 months I filmed him and the group at the Garrick Theater in Greenwich Village, New York, at home with Gail and Baby Moon and at various events as well as their Trips to London and Amsterdam.
Since their seemed to be no end to the film I eventually sold the 14 hours of footage to Zappa which he used in many of his later releases.
Out of this footage I created a 40 minute Film which Zappa gave me permission to show at Film Festivals and Non Commercial events.
After 40 years of trying to get the Zappa Family to release this historic film I decided to release it on my own by making individual prints and selling it to Zappa fans around the world.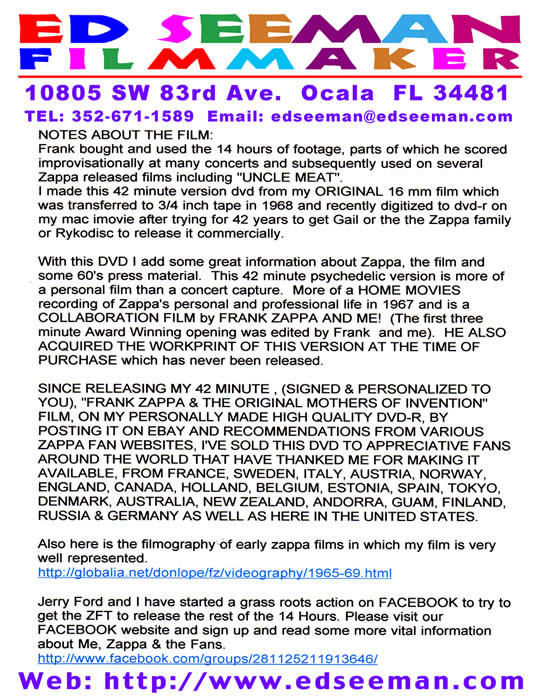 Here are some of their emails to me after seeing the DVD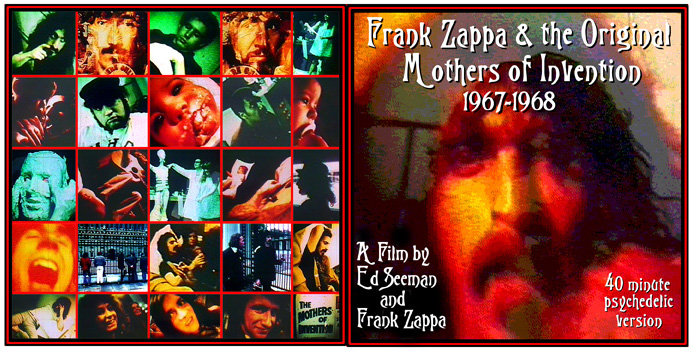 The reason the Zappa Family can't release my 14 hours of footage is because IT WAS SHOT SILENT! Frank and I decided to be creative with the camera without the restrictions of sync sound shooting. This enabled me to create in the camera and him to score the footage with whatever he wished to improvisationally sync it to, which he did in many concerts and later film releases. It was our collaborative experiment. That's why we spent almost two years together creating in-camera effects that he would screen the next day and play with the post scoring. During the time I was shooting more footage in 1967, I scored this 40 minute version using a 1/4" reel to reel tape that Zappa lent me at the time to score with. After selling the 14 hours to The Zappa company BIZARRE, Frank kept the original of this 40 minute film and I kept my copy which Frank gave me permission to show at film festivals.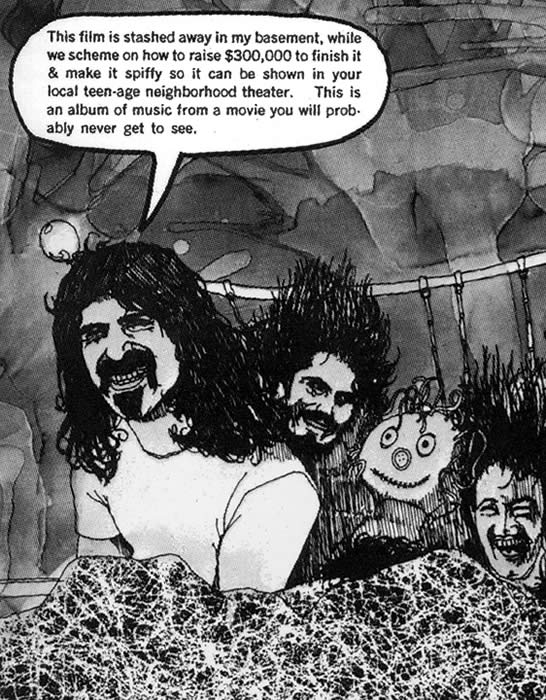 TO CONTACT ED SEEMAN ABOUT HIS ZAPPA EXPERIENCE
PLEASE GO TO